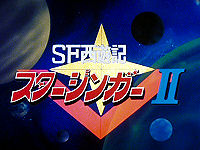 © Leiji Matsumoto·Tôei Dôga/Fuji TV
Anime TV series
15/07/1979~26/08/1979 (Sun) Broadcast time: 19:00~19:30
9 episodes (1話完結) / Color
TV channel:
Fuji TV
View the complete list of the 9 episodes
ep. #1 "Daihenshin! Jan Kûgo"
ep. #2 "Yôkai! Tatakae Aurora-hime"
ep. #3 "Muzan! Namida no Dorei Hoshi"
ep. #4 "Yurusenai Shôakuma"
ep. #5 "Ai no Hoshi wa Kanashimi no Hoshi"
ep. #6 "Kûgo tai Nise Kûgo"
ep. #7 "Hikare! Kurushimi no Namida"
ep. #8 "Daikessen! Maô Golga"
ep. #9 "Saraba Hime! Waga Tomo yo"
Average audience rating:
13.9%

Highest audience rating:
16.2% (ep. 1)
(Anime TV series, 1978)
(Anime movie, 1979)
(Anime movie, 1979)
Previous show:

Competitor show:




none

Next show: